The Root of Affliction
Tonight was my night to prepare the horseradish.
The recipe books (or so my wife tells me; I haven't looked) say to leave the lid on the food processor closed for a full half hour after grating the horseradish root.
What do they know? There is nothing (in the legal pharmacopeia) to compare with the experience of lifting the lid of the food processor that first time.
At first, nothing. And then … wham! … you instantly become acutely aware of how extensive the network of sinus cavities in your head really is. Your eyes tear up, and you reflexively grip the counter-top for support.
And then, just as quickly, it passes and you return to the business of mixing and blending and bottling.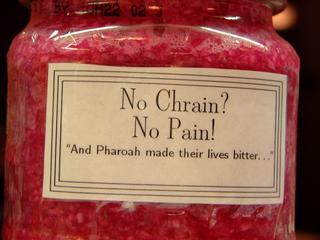 And, sorry, unlike the rest of my blog, neither my chrain recipe, nor the labels are CC-Licenced.
Update: Ack! Boycott Melissa's horseradish root. I've tried two different batches from two different supermarkets and, despite the initial fireworks, the result, both times, was dull and tasteless. Come to think of it, Melissa's are purveyors of dull tasteless jicama, dull, tasteless tamarind, and other "speciality produce". Avoid like … the plague.
Posted by distler at April 13, 2003 1:09 AM