Goodbye, Hans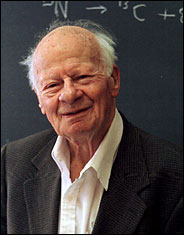 When I was a postdoc at Cornell, I had the misfortune of having
Hans Bethe
's office located between mine and the lounge where the coffee machine resided. As I sauntered down the hall to get some coffee, I would pass by Bethe's open door, and there he would be, hunched over his desk, writing furiously. A little while later, I would saunter back with my cup of coffee, and there he was, still working feverishly.
This was in the days after Supernova 1987a, and Hans was having a ball, watching his theories of supernova formation being confirmed by observations. He might have been over 80, but he was working harder than any of us, a mere fraction of his age. I certainly felt like I was slacking off. Shouldn't I, too, have been hunched over my desk, calculating? Hans, mercifully, was too busy to look up from his desk and notice my idleness.
He was a giant of theoretical physics, and an inspiration to anyone ever associated to Cornell Physics. He passed away last night, at age 98. The New York Times has an obituary. And there's more from Matthew Nobes.
Posted by distler at March 7, 2005 6:28 PM