Higgs Up

[via Sean Carroll] Now, I know I'm not supposed to believe any physics papers published in Nature, but this one — if true — is pretty interesting. It seems that DØ has been reanalyzing their data on the top quark, and their new analysis pushes the central value for the mass up by 4 GeV. The previous world average value was GeV. The new value is GeV.
This may not sound like much of a change, but if you recall, the Higgs mass in the MSSM depends rather sensitively on . The one-loop contribution, up to logarithmic corrections, goes like ,
where is the top Yukawa coupling, is the stop mass, and .
To accommodate the current experimental lower bound, GeV, one needs a very heavy stop, GeV. And, even so, one has an upper limit of something like GeV.
Shift the top mass up by GeV, and the upper limit on also shifts up to GeV. But, more significantly, the central "best-fit" value goes up from the now-experimentally excluded GeV to GeV. Just out of range of what would have been seen at LEP, but about the first thing they'll see at the LHC.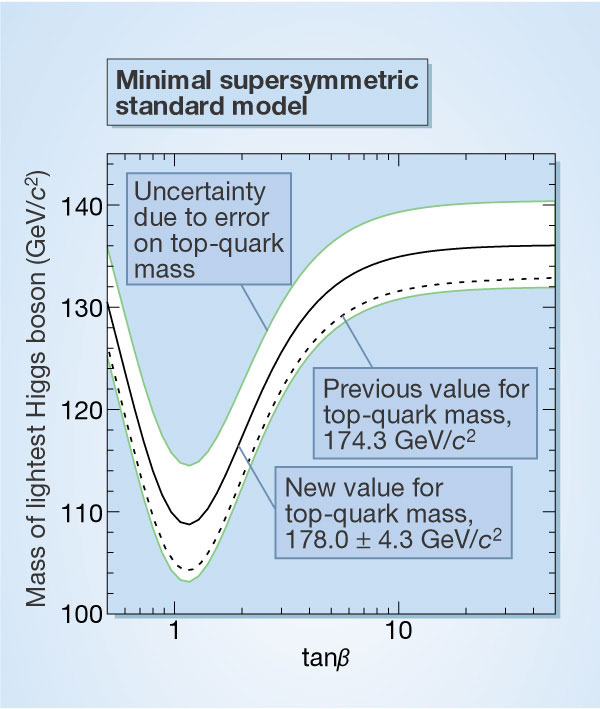 The mass of the lightest Higgs boson in the minimal supersymmetric standard model (MSSM). The predicted value is shown as a function of the parameter (the other MSSM parameters are chosen such that they maximize the resulting value of the Higgs mass). The predicted Higgs mass is sensitive to the value of the top-quark mass used in the calculation. The solid line indicates the prediction using the new measurement of the top-quark mass from the DØ Collaboration; the white band indicates the uncertainty of the prediction that results from the error on the top-quark mass. The dashed line shows the situation before the new measurement (the previous experimental error of 5.1 GeV/c2 is not shown). Based on the new value of the top-quark mass, an upper bound on the mass of the lightest MSSM Higgs boson of about 140 GeV/c2 is established. [Nature 429 (10 June 2004) p. 614.]
Posted by distler at June 11, 2004 12:06 AM