Who the heck are you?
In the debate, Dick Cheney lambasted John Edwards for his spotty attendance record in the Senate:
Now, in my capacity as Vice President, I am the president of the Senate and the presiding officer. I'm up in the Senate most Tuesdays when they're in session. The first time I ever met you was when you walked on the stage tonight.
As a gazillion bloggers instantly pointed out: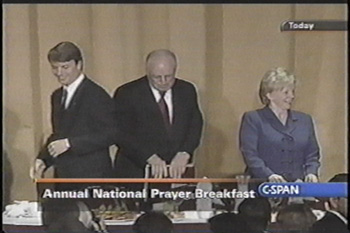 Thank you. Thank you very much. Congressman Watts, Senator Edwards, friends from across America and distinguished visitors to our country from all over the world …
Evidently, the old codger has grown senile. Could it be time to put him out to pasture?
Update:
Edition
Apparently, Cheney can't remember where he spends his Tuesdays either. Of the 127 Tuesdays on which the Senate was in session, he was present for only two.
I suppose this might come down to a matter of semantics. As a former president might have remarked, "It all depends on what the meaning of 'most' is."
Posted by distler at October 6, 2004 12:46 AM