The Best Bagels

They're cut from 150 lb slabs of dough, hand-rolled, boiled in honey-water, tossed with either sesame or poppy seeds, and then baked on long pallets in a wood-fired oven. With a crisp crust and a chewy center, they have a hint of sweetness (remember the honey-water). They are, in short, the best bagels in the world. Nothing else even comes close1.
When my parents were alive, every visit was accompanied by four or five dozen, carefully-wrapped and frozen. These went straight into the freezer, to be doled out sparingly, until the next visit. Since then, we (my wife, though born in Chicago, is as passionate about these bagels as I) have been bereft.
So you can imagine my excitement when I learned that the St. Viateur Bagel Bakery now has a mail-order business. For $31.50 CAN, they'll send a box of six dozen, via next-day air. Bliss!
Alas, a quick email exchange with José2 established that they only ship within Canada.
Lack of demand? The hassle of dealing with US Customs? Pressure from the New York Bagel lobby? Who knows why they won't ship south of the border! Whatever the reason, I am, needless to say … crushed.
Update:
Since this post generated more interest than I thought it would, I offer you, dear readers, a little bit of soft-core bagel porn: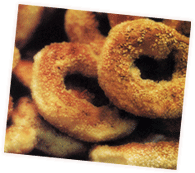 ---
2 The Jewish staff, long ago, gave way to other ethnic groups; the current owner is Italian.
Posted by distler at August 11, 2005 1:36 AM