MINOS

We've got several people, working on MINOS, here at UT. So I should be more clued-in than I am. But I learn from Andrew Jaffe that they have released their first data.

They have measured oscillation between the 2nd and 3rd families of neutrinos and inferred a value of . The mixing is also close to maximal.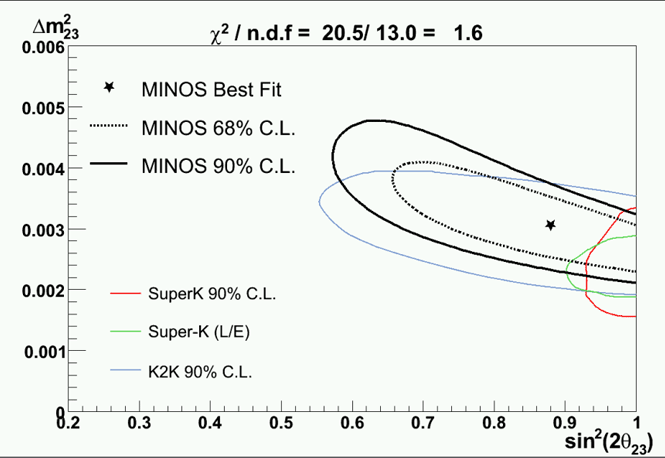 These are really impressive first results from an experiment which should produce even better results down the road.
PVLAS
For reasons that escape me, both Sean and Luboš have recent posts about the PVLAS experiment which made a splash last summer, purporting to detect vacuum birefringence in a strong (5 Tesla) magnetic field (see also a more recent conference proceedings). This, obviously, suggests an axion-like field, , with a coupling to photons. But it's pretty much impossible to reconcile the apparent strength of the coupling, , suggested by PVLAS with astrophysical bounds from energy transport in stars and from the CAST experiment (see, e.g., the review by George Raffelt).
That's not to say that people haven't tried. Proposing a model in which the aforementioned "axion" is composite, with compositeness scale of a few KeV, built out of preons with electric charges , and possibly also requiring the photon to have a small mixing with another unbroken gauge boson, and hoping that the whole Rube Goldbergesque contraption is not already ruled out by a host of existing experiments, is, even the authors admit, a bit of a stretch.
Andreas Ringwald has a review of the status of these proposals. The smart money's on the experimental result going away.
Posted by distler at April 1, 2006 3:24 PM