Dark Matter in the Bullet Cluster
Posted by John Baez
Welcome to the n-Category Café!
David Corfield, Urs Schreiber and I have decided to join forces and take over the universe - with Jacques Distler providing invaluable technical support.
But we're just getting started here…so for now, check out this picture of the "Bullet Cluster" - actually two galaxy clusters colliding at 5000 kilometers per second: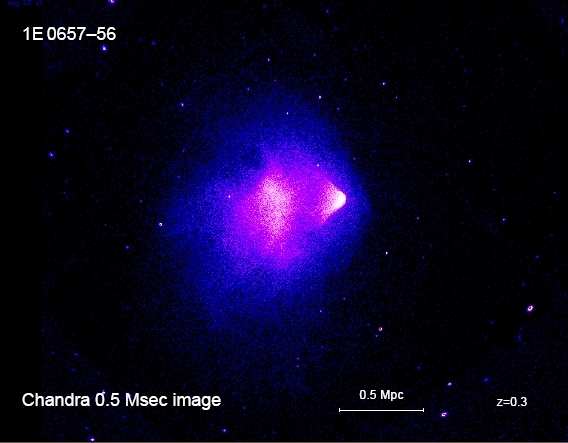 You can read more about this in week238 of This Week's Finds.
The basic idea: on Wednesday August 15th, a press release came out entitled NASA Announces Dark Matter Discovery. It didn't say what they found. They're trying to build up suspense for a mysterious press conference on Monday the 21st. But since one of the folks at the teleconference is Maxim Markevitch, who has found dark matter in the Bullet Cluster, I can guess what this press conference will be about - and I'll tell you! It's pretty cool.
Posted at August 17, 2006 11:32 AM UTC