Zooming Out in Time
Posted by John Baez
How can we detect and understand oncoming crises in time to avert them? Sometimes we must "zoom out": expand our perspective and find similar situations in the distant past. A good example is climate change. What can a few degrees of warming do? To answer this, we need to know some history: how the Earth's climate has changed over the last 65 million years.
The Long Now Foundation was established in 01996 to develop the Clock and Library projects, as well as to become the seed of a very long term cultural institution. They hope to provide counterpoint to today's "faster/cheaper" mind set and promote "slower/better" thinking. They hope to creatively foster responsibility in the framework of the next 10,000 years.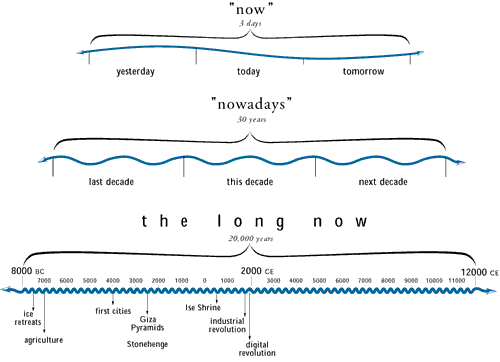 The Long Now Foundation runs a series of talks called Seminars About Long-Term Thinking.
Click here to see the slides of my talk in this seminar:
The version without hyperlinks is a bit prettier. The version with hyperlinks takes you to more information about each picture.
Posted at October 8, 2006 3:07 AM UTC