New Light Particle(s) Discovered?
Posted by John Baez

The lightest known particle heavier than the electron is the muon: it's about 207 times as heavy. This paper claims to have found evidence for new neutral particles that are only about 14 and 37 times as heavy as the the electron:
Here's a news story:
The title of this story makes the discovery sound like a sure thing, but I think we should be careful. The evidence is not iron-clad — and particle physics beyond the Standard Model is serious stuff!

The authors fired nuclei of lead at an emulsion that served both as target and detector, and looked for excess production of low-energy electron-positron pairs. Looking at a sample of 1220 electron-positron pairs, they found peaks at energies of 7±1 MeV and 19±1 MeV: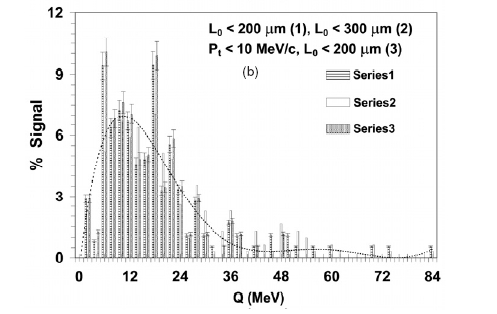 These peaks are more than 3 standard deviations above the mean - enough to be interesting, but not enough to clinch the case.
For theorists, part of the excitement is the possibility that a light particle like this could be the long-sought axion. Previous hints of the axion may have been seen earlier this year, in a very different experiment:
Alas, an axion several times heavier than the electron could not serve to explain dark matter, because it wouldn't be stable: it could decay into an electron-positron pair, as Jain and Singh claim to see. Indeed, they claim lifetimes of less than 10-13 seconds.
I thank my student Mike Stay for pointing out Jain and Singh's paper.
Posted at December 7, 2006 5:51 AM UTC