Penrose on Angular Momentum: An Approach to Combinatorial Space-Time
Posted by John Baez

Georg Beyerle has created an electronic version of a classic paper on spin networks that was previously available only in an out-of-print book:
Roger Penrose has given me permission to put it on my website. Take a copy! If you spot typos, please let me know.

Here's what a piece of a spin network looks like: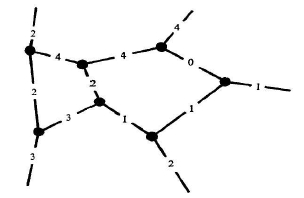 Can we build space, or spacetime, out of something as simple as this? That's the question Penrose tackles in his paper.
Posted at May 18, 2007 4:12 AM UTC