Categorification and Topology
Posted by John Baez

On Friday I'm going to the workshop on Categorification and Geometrisation From Representation Theory in Glasgow. I plan to learn a lot of algebra and give this talk:
The weekend after that I'll give a more leisurely version of this talk at the Graduate Student Topology Conference in Wisconsin.

I decided that with Jacob Lurie making serious progress on the Cobordism Hypothesis and Tangle Hypothesis, it's a good time for everyone to learn the basic ideas.
Abstract: The relation between -categories and topology is clarified by a collection of hypotheses, some of which have already been made precise and proved. The "homotopy hypothesis" says that homotopy -types are the same as -groupoids. The "stabilization hypothesis" says that each column in the periodic table of -categories stabilizes at a certain precise point. The "cobordism hypothesis" gives an -categorical description of cobordisms, while the "tangle hypothesis" does the same for tangles and their higher-dimensional relatives. We shall sketch these ideas, describe recent work by Lurie and Hopkins on the cobordism and tangle hypotheses, and say a bit about how these ideas are related to other lines of work on categorification.
If you see typos or other problems, please let me know!
The Graduate Student Topology Conference will also have other talks of interest to -Café regulars. For example:
The workshop on Categorification and Geometrisation From Representation Theory has so many interesting talks that I won't even try to list them here! So, take a look at the program.
I will explain this diagram in my talk: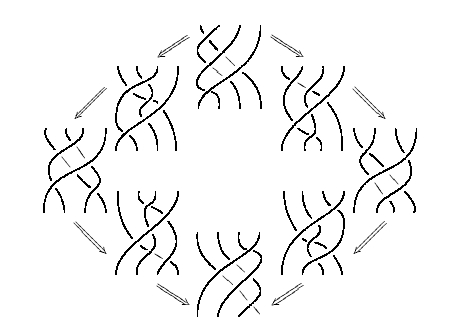 Posted at April 7, 2009 1:42 AM UTC