Good News
Posted by John Baez

Various bits of good news concerning my former students Alissa Crans, Derek Wise, Jeffrey Morton and Chris Rogers.

Alissa Crans did her thesis on Lie 2-Algebras back in 2004. She got hired by Loyola Marymount University, got tenure there in 2011… and a couple of weeks ago she got promoted to full professor! Hurrah!
Derek Wise did his thesis on Topological Gauge Theory, Cartan Geometry, and Gravity in 2007. After a stint at U. C. Davis he went to Erlangen in 2010. When I was in Erlangen in the spring of 2014 he was working with Catherine Meusberger on gauge theory with Hopf algebras replacing groups, and a while back they came out with a great paper on that: Hopf algebra gauge theory on a ribbon graph. But the good news is this: last fall, he got a tenure-track job at Concordia University St Paul!
Jeffrey Morton did his thesis on Extended TQFT's and Quantum Gravity in 2007. After postdocs at the University of Western Ontario, the Instituto Superior Técnico, Universität Hamburg, Mount Allison University and a visiting assistant professorship at Toledo University, he has gotten a tenure-track job at SUNY Buffalo State! I guess he'll start there in the fall.
They're older and wiser now, but here's what they looked like once: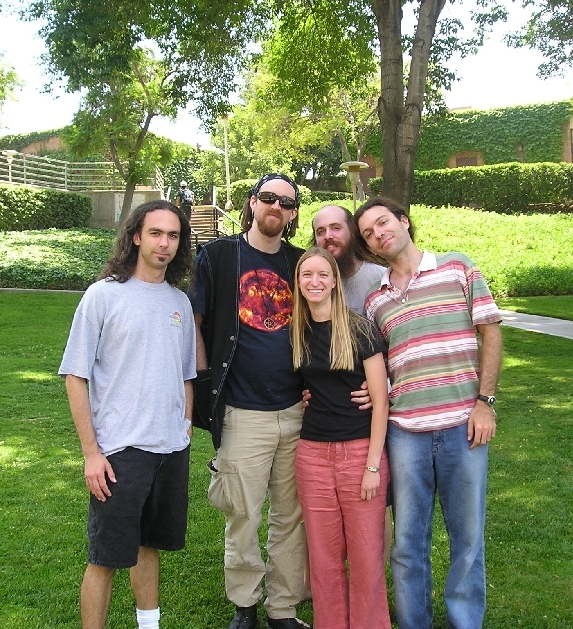 From left to right it's Derek Wise, Jeffrey Morton and Alissa Crans… and then two more students of mine: Toby Bartels and Miguel Carrión Álvarez.
And one more late-breaking piece of news! Chris Rogers wrote his thesis on Higher Symplectic Geometry in 2011. After postdocs at Göttingen and the University of Greifswald, and a lot of great work on higher structures, he got a tenure-track job at the University of Louisiana. But now he's accepted a tenure-track position at the University of Nevada at Reno, where his wife teaches dance. This solves a long-running two-body problem for them!
Posted at May 26, 2016 4:12 AM UTC