Firebombed
Hmm. Well that's just peachy.
My old elementary school was firebombed this week1. No one was hurt, but the school library was totally destroyed.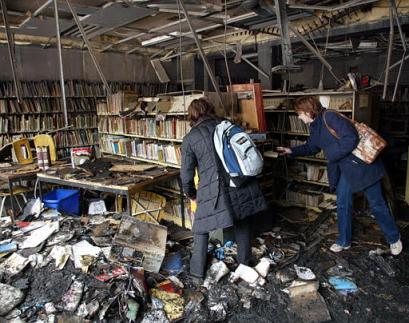 A note left at the scene said that the firebombing was in response to the Israeli assassination of Sheik Ahmed Yassin, the leader of Hamas:
Our goal was only to sound the alarm without causing deaths … but this is just a beginning. If your crimes continue in the Middle East, our attacks will continue.
The French-language note was signed by a previously unknown group, "the Brigades of Sheik Ahmed Yassin."
Let's be quite clear. This had nothing to do with Hamas. When Hamas exacts their revenge, as they surely will, it will be far, far bloodier, and it will be directed at Israelis, rather than Canadian schoolchildren. These were amateurs — loathsome, hate-mongering anti-Semitic amateurs, but amateurs nonetheless.
Strangely, though, knowing that this a hobby rather than a vocation for them, does not make me more sanguine.
Update (4/15/2004): With tight security in place, classes re-opened on schedule. And, yes, they are accepting donations to rebuild the library.
---
1 To be precise, it was the Ville St. Laurent school which was attacked; I attended a different branch. But, still, this cuts chillingly close to home.
Posted by distler at April 10, 2004 12:12 AM