The People Garden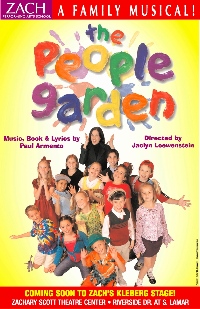 I'm not much for posting "Today I Had a Cheese Sandwich"-type blog entries. I can't see why anyone would be interested in the daily details of my life, when their own is surely much more interesting.
But, as I've alluded to in several posts, I've been spending a lot of time, recently, hanging around the Zachary Scott Theater, here in Austin. Here's why. My daughter is playing the role of "Adam" in the Zach's production of The People Garden. It's a heartwarming little musical about the meaning of life, as revealed in a kindergarten class.
The show is in its final, hectic, week of rehearsals. It opens this Saturday, and runs through March 15. If you're anywhere near Austin, check it out. I may be a trifle biased, but I'm pretty sure you won't be disappointed.
Posted by distler at February 5, 2006 10:33 AM