Golem V
For nearly 20 years, Golem has been the machine on my desk. It's been my mail server, web server, file server, … ; it's run Mathematica and TeX and compiled software for me. Of course, it hasn't been the same physical machine all these years. Like Doctor Who, it's gone through several reincarnations.
Alas, word came down from the Provost that all "servers" must move (physically or virtually) to the University Data Center. And, bewilderingly, the machine on my desk counted as a "server."
Obviously, a 27" iMac wasn't going to make such a move. And, equally obvious, it would have been rather difficult to replace/migrate all of the stuff I have running on the current Golem. So we had to go out shopping for Golem V. The iMac stayed on my desk; the machine that moved to the Data Center is a new Mac Mini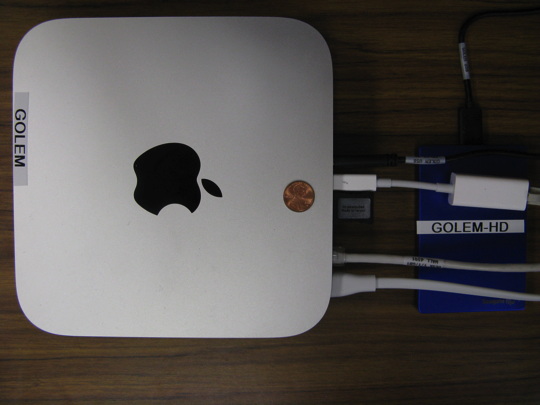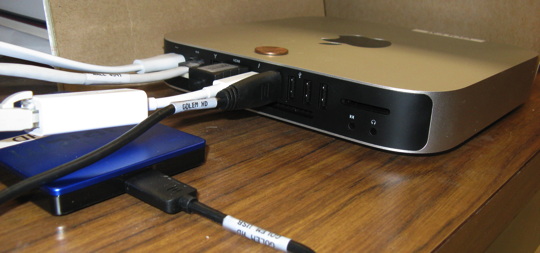 2.3 GHz quad-core Intel Core i7 (8 logical cores, via hyperthreading)
16 GB RAM
480 GB SSD (main drive)
1 TB HD (Time Machine backup)
1 TB external HD (CCC clone of the main drive)
Dual 1 Gigabit Ethernet Adapters, bonded via LACP
In addition to the dual network interface, it (along with, I gather, a rack full of other Mac Minis) is plugged into an ATS, to take advantage of the dual redundant power supply at the Data Center.
Not as convenient, for me, as having it on my desk, but I'm sure the new Golem will enjoy the austere hum of the Data Center much better than the messy cacophony of my office.
---
I did get a tour of the Data Center out of the deal. Two things stood out for me.
Most UPSs involve large banks of lead-acid batteries. The UPSs at the University Data Center use flywheels. They comprise a long row of refrigerator-sized cabinets which give off a persistent hum due to the humongous flywheels rotating in vacuum within.
The server cabinets are painted the standard generic white. But, for the networking cabinets, the University went to some expense to get them custom-painted … burnt orange.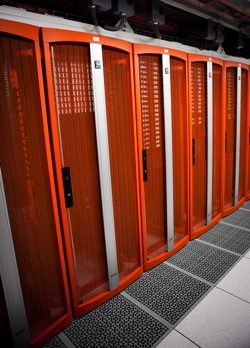 Posted by distler at August 19, 2014 3:05 PM