This Week's Finds in Mathematical Physics (Week 253)
Posted by John Baez

In week253, read about mysterious relations between the Standard Model, the SU(5) and SO(10) grand unified theories, the exceptional group E6, the complexified octonionic projective plane… and maybe even E8!

Here's a lightning review of the Standard Model: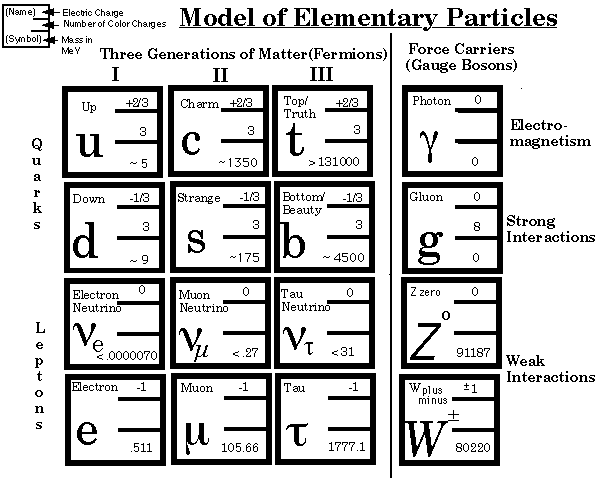 Alas, the fact that this chart looks like a square matrix seems to have no relation to any interesting physics whatsoever, except insofar as it shows that leptons and quarks come in 3 generations and the gauge bosons are something else. I know of no sense in which the , , and are like a "fourth generation".
Also, this chart omits the Higgs.
But, it's the best chart I could find when it came to simplicity, visual impact and actual information. It's available at various places on the Fermi National Accelerator Laboratory website.
It's possible to make a very nice chart of fermions in the SO(10) grand unified theory, and I believe such a chart can be found in Zee's book Quantum Field Theory in a Nutshell. But, I couldn't find a nice chart like this online. Maybe I'll have to make one someday.
Posted at June 28, 2007 7:55 AM UTC