Four More Years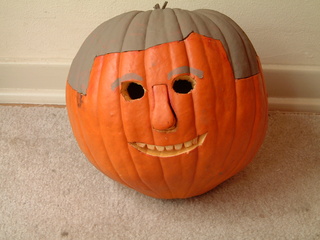 The people have spoken and, by a margin of 3.7 million or so, have chosen their pumpkin. Yes, it's a bit soft, slightly smelly, and should have been put out at the kerb by now. But there it is.
Kerry could still win Ohio (and hence the election) in a count of provisional ballots 10 days from now1. But that would be almost worse. Both Houses of Congress are firmly in Republican control and the popular vote is unmistakably against him. Governing under such circumstances would be nigh on impossible.
This way, at least, a second Bush Administration will have to face up to the ballooning Budget deficit, the anæmic economy and the disaster they have created in Iraq. They, alone, will face responsibility for the mess.
Some discern hopeful signs that sanity (fiscal, diplomatic or strategic) will return in a 2nd Bush term. I don't see it. Inhale deeply; we're headed for four very smelly years…
---
1 By mid-day, it was clear that even that was impossible, and Kerry conceded.
Posted by distler at November 3, 2004 9:22 AM