Gadgets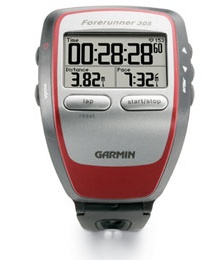 My wife is the best.
For my birthday, she bought me the Dick Tracy watch pictured at left. It's a combination stopwatch, heart rate monitor and GPS unit. Albeit a little bulky, it's only 77g, and fits fairly comfortably on your wrist.
It records where you are (< 10 m accuracy), how fast you are going (< 0.05 m/s accuracy), and your heart rate at 5 second intervals. It gives you instant feedback about the elapsed time, your current pace, etc. It will even display a crude map showing your location, and guide you back to your starting point.
And it interfaces, via USB, with your computer. Plug it in, at the end of your run, and you get a plot like this.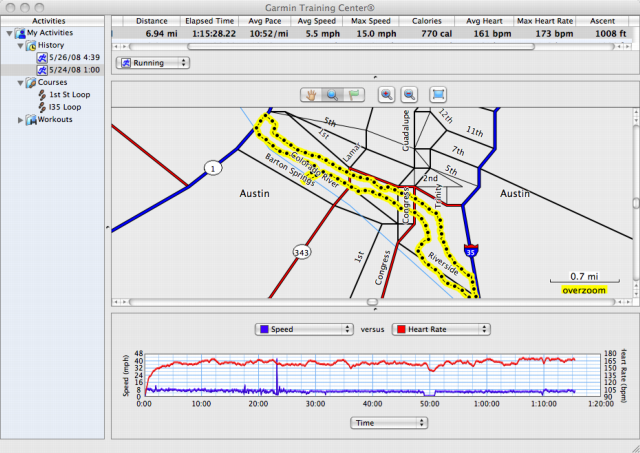 Data downloaded from the watch, displayed in Garmin's application
You can see clearly where I stopped to refill my Camelbak with water, around the 50 minute mark1. No, I don't know what the little spike at the 23 minute mark was about. But you can see the course a little better if you launch Google Earth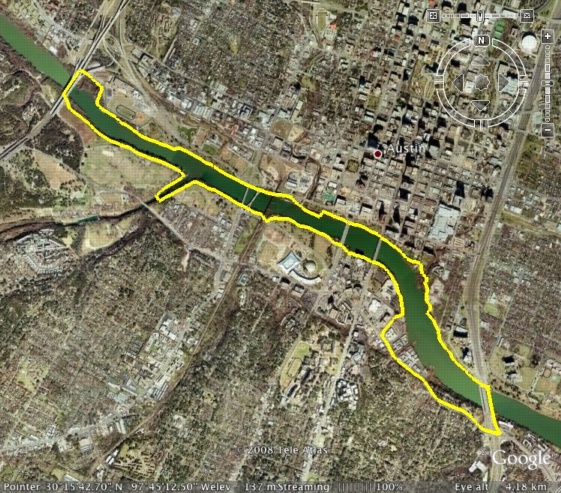 Same data, in Google Earth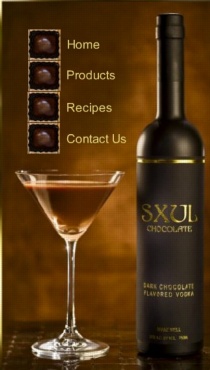 The data can be exported as XML, though I'm not quite sure what one might do with the result.
In case endorphins were not enough, my other birthday gift was a bottle of dark chocolate vodka. The manufacturer is a local chocolatier, whose non-liquid products are justifiably sought-after. This one is a rich, syrupy liquid, which tastes pretty much like a drinkable version of their dark chocolate truffles. Except … well … that it's 60 proof.
It's also the only bottle of liquour that I've ever owned that says "Shake well before serving." I guess I must just be buying the wrong stuff …
---
1 The somewhat lackadaisical pace of the run depicted above can be ascribed to two things not recorded by this watch: that I am recovering from a hip injury and that the ambient temperature was 100 ℉ during the run.
Posted by distler at May 27, 2008 10:03 AM