February 28, 2003
February 26, 2003
February 24, 2003
February 23, 2003
February 22, 2003
Keynote and EquationService
At $14.95, it was hard to pass up the Keynote+iLife bundle from Apple. Which means that I've gotten to spend a bit of time playing around with Keynote.
After the initial amusement of watching bullet points bounce and twirl and slide across the screen as they appeared and disappeared from my slides, I got down to the serious business.
How to do equations? The obvious answer is EquationService. It's best known as a providing a "send text, return PDF" service. For those Applications which accept such services (Mail, TextEdit), you can highlight a block of tex code, hit ⌘+\ and EquationService will run it through pdftex and return a PDF fragment in its place.
Keynote, alas, is not such an application. Fortunately, EquationServices can also function as a handy-dandy standalone equation editor.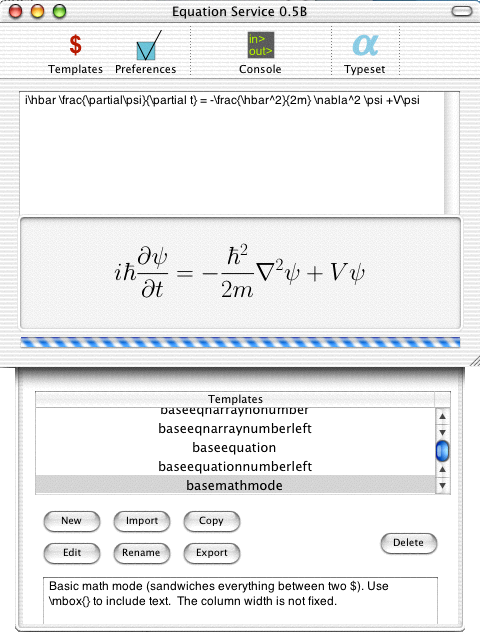 You type TeX code in the upper pane, and then drag the resulting PDF from the lower pane into the target application. Keynote does accept drag 'n drop PDF.
By itself, this would be pretty useless. Every time you wanted to edit an equation, you'd tediously have to recreate it in EquationService. Fortunately, EquationService provides an untypeset facility. It embeds the original TeX code in the PDF file, and if you drag an EquationService-created PDF file back onto the lower pane, the TeX code appears in the upper pane for you to edit.
Or, at least, that's how it works in Mail. If you try to drag the PDF from TextEdit, nothing happens. Curiously, you can drag the PDF from TextEdit into Mail and then from Mail into EquationService.
With Keynote, however…
You can't drag 'n drop from Keynote. If you try to drag the PDF out of the Keynote window, all you succeed in doing is moving it to some irretrievable location offscreen. (Where were Apple's HIG people on this one?)
You can copy the PDF file. But then EquationService won't accept the paste.
Mail will accept the paste. But if you drag it from there to EquationService, you get the message

Error encountered reading source from PDF
So I'm stymied.
It sure would be great if the Keynote engineers got together with Doug Rowland (the author of EquationService) and made the two work seamlessly together. In the meantime, I'll stick to more primitive technologies.
February 20, 2003
February 18, 2003
February 17, 2003
February 15, 2003
February 14, 2003
February 10, 2003
February 9, 2003
February 7, 2003
February 4, 2003
February 3, 2003
February 1, 2003